I grew up in south Florida, on the shore of Lake Okeechobee, so that's what jumped into my head when I thought of "waterways."
Lake Okeechobee
Altered by the hands of man
Fragile, beautiful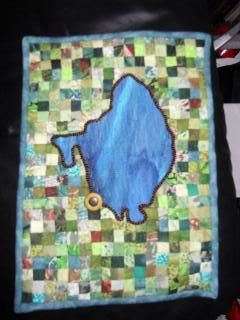 One shot with flash, one without. Combined, you get an idea of what the piece actually looks like! Color is truer on the darker/no flash shot, but you can see the couching (new technique this month) around the lake better on the lighter/with flash shot.
I really like how this one turned out.